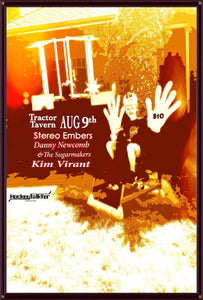 Wishlist Teams Up with Stereo Embers, Danny Newcomb and the Sugarmakers & Kim Virant
PEARL JAM FAN-RUN NONPROFIT WISHLIST FOUNDATION
TEAMS UP WITH SEATTLE MUSICIANS IN SUPPORT OF THE HOME SHOWS
Wishlist Foundation, a Pearl Jam fan-run grassroots 501(c)(3) nonprofit organization in its 12th year, is excited to announce they have teamed up with Seattle musicians Stereo Embers, Danny Newcomb & the Sugarmakers and Kim Virant, for a three-day celebration of the Seattle music scene to support The Home Shows, Pearl Jam's massive initiative to spotlight efforts across Seattle to address the region's homelessness issue.
On Wednesday, August 8th, Wishlist Foundation will host a preparty fundraiser at Quality Athletics prior to Pearl Jam's first of two concerts at Safeco Field. Hockeytalkter Records labelmates Stereo Embers, Danny Newcomb & the Sugarmakers and Kim Virant will be performing a showcase set at the Tractor Tavern in between the Pearl Jam shows on Thursday, August 9th. Finally, Wishlist Foundation will host the largest Pearl Jam fan-run event to date at the Showbox SoDo before the band's second night at Safeco Field on Friday, August 10th. The artists will be on hand for a meet-and-greet with fans with merchandise available for purchase. They are joined by fellow special guests, journalist and author Henrik Tuxen and famed rock photographer Danny Clinch, who'll present his "Clinch Crates at Wishlist".
In addition to bringing nearly 100,000 fans from around the world together, The Home Shows will spotlight efforts across the city and King County to address the region's homelessness issue. Over the past 28 years, the City of Seattle's population has grown by 40%. The region's homelessness population is now the third largest in the country, with over 12,000 people living without shelter on any one night.
Stereo Embers are an American Rock band from Seattle, WA featuring Robb Benson (lead vocals/rhythm guitar), Tim DiJulio (backing vocals/lead guitar), Gwon Chang (backing vocals/bass guitar), and Cassady Laton (drums). They carry no pretense – no effort to be something that they are not and display their musical influences proudly. Through their songs, homage is paid to bands like The Who, The Faces, Big Star, and Cheap Trick.  Their music is energetic, melodic, anthemic- much as the music it is influenced by was and still is.

Danny Newcomb and the Sugarmakers, featuring Rick Friel (bass guitar) and Joel Trueblood (drums), have been performing throughout the Northwest in the past three years, drawing bigger audiences and getting attention from local press and radio. The Seattle Times had a feature article on the cover of Pacific Magazine, calling him for better or worse "a guitar hero." Kevin Cole at KEXP called Masterwish, his first release, and "instant classic." With the new record, the band reaches for the next level on their performances and delivers on 11 great rock'n'roll pop songs.
If you were a rock fan in Seattle, WA in the early nineties you were a fan of Kim Virant and her band, Lazy Susan. With their Stonesy double guitar stomp and Kim's charismatic vocals, Lazy Susan ruled the club scene, working their way from small venues to routinely selling out 1000 person capacity rooms and opened up for artists such as Pearl Jam. The band broke up after a recording deal fell through, and Virant reinvented herself, or at least her music. Her solo albums were based in alt-country/rootsy guitar sound and she continually played around Seattle for the rest of the 1990s.
The self-proclaimed "queen of benefits," Virant has played alongside many artists and continues to be locally active and acclaimed in Seattle. She is married to Chris Friel ("my good looking husband, he helps keep my dream alive"), an accomplished drummer who has played with The Rockfords and Goodness among others. Virant was one of the kickoff artists for new local label, London Tone Music, who have released Virant's recent single Pilot. Last August, HockeyTalkter released a 45" single with Kim, Mike McCready, and Steve Gleason called Space In Between & Her Again. This fall, HockeyTalkter will release another collaboration between Kim and McCready, called You're the Song and Adrift.
HockeyTalkter Records, a small vinyl record label and media outlet for Pearl Jam's Mike McCready specializing in limited edition 7-inch singles, has produced records featuring members of Stereo Embers, Danny Newcomb and the Sugarmakers and vocalist Kim Virant. Dedicated to supporting their Seattle music community and philanthropic nature, many of the artists have also performed together at the annual fundraiser put on by Flight to Mars, a UFO tribute band started by McCready and Stereo Ember's DiJulio 18 years ago. The Flight to Mars VIP fundraisers, hosted by Wishlist Foundation for the past 11 years, have helped McCready and friends raise an additional $125,375 to date.
Inspired by the band, Pearl Jam fans involved with Wishlist Foundation have been fundraising in their honor for the past 14 years.
"I think our fans are very proactive in terms of fundraising for events before our shows. Wishlist Foundation…a really cool organization…organizes pre-concert events to raise money for nonprofits supported by our band. They do it of their own volition and they take care of each other and their communities. It always blows me away," states Mike McCready, lead guitarist of Pearl Jam.
Since its inception in 2004, Wishlist Foundation has remained a 100% volunteer organization run by fans, raising over 1.3 million dollars for charitable organizations in the arenas of health and chronic illness, environmental causes, arts and education and social change. A pioneer in fan-based viral activism and leader in the Pearl Jam fan community, Wishlist Foundation sponsored events are the go-to destination for thousands of fans across the globe to gather before Pearl Jam and other related concerts, forge new friendships, all while uniting behind causes important to both the fans and band.
The Thursday, August 9th concert has a $10 cover for ages 21 and over, located at Tractor Tavern, 5213 Ballard Ave. N.W., Seattle, WA. Tickets can be purchased at the box office the day of the event, or in advance from the Tractor Tavern.

Friday's, August 10th Wishlist fundraiser is all ages with a $10 cover, located at the Showbox SoDo, 1700 1st Ave S., Seattle, WA. Tickets can be purchased at the box office the day of the event, or in advance from the Showbox Presents.
Attendees of the fan-run Wishlist fundraisers can make donations to receive band and fan inspired merchandise and enter raffles for chances to win fan-donated band collectibles. Silent and live auctions will feature donated autographed Pearl Jam posters and other rare memorabilia. All proceeds from the raffles and auctions will benefit Pearl Jam's designated charities. More information on the fan-run Wishlist Foundation fundraisers can be found at wishlistfoundation.org.
---