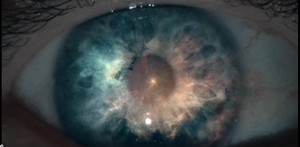 Pearl Jam Teases Next Stage of Dance of the Clairvoyants Video Out Tomorrow
Pearl Jam teased this little 8 second video clip of the "next stage" of their debut single "Dance of the Clairvoyants" around 1PM PT today, hinting that "Mach II" will be coming Wednesday, January 29th.

Mach II is twice the speed of sound and also a follow up nod to the original video posted by the band for Dance.
We're guessing another version of the video, or possible interactive element. What do you think?
---