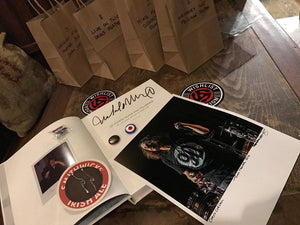 Dublin Pre-Party
Dublin Pre-Party
by: Carin Cohen and Damien Murphy
Eddie Vedder's solo show in Dublin June 9th was always going to be a special one, as the homecoming show for touring partner, Glen Hansard. That made it the perfect place for us to host a Wishlist fundraiser.
With the recent death of Chris Cornell hanging over the tour, organizers Carin Cohen and Damien Murphy decided to raise funds for Pieta House, an Irish organization that provides a free, therapeutic approach to people who are in suicidal distress and those who engage in self-harm. During this time especially, we wanted to bring the community together and at the same time do something in memory of Cornell.
Before the epic 2 hour, 40 minute show, fans from around the globe gathered in The Ferryman Townhouse across the river from the 3 Arena. The Pearl Jam community rose to the occasion donating memorabilia which included a signed copy of Mike McCready's photobook Of Potato Heads & Polaroids. There was custom-made PJ-inspired handicrafts made by volunteer Monica Alexandru, handmade jewelry from local jeweler and fan, Dave Gavin and a beautiful photograph of Chris Cornell taken and donated by fan Michael Kravetsky. All in all, with some generous support from the Ferryman staff and management, the Wishlist Foundation raised €1,008 ($1,150) for Pieta House's lifesaving work.
Thanks to Jenni, Paola, Monica for volunteering and two very young fans, Seán and Matteo for their enthusiasm! Thanks to everyone who came along and donated their time, memorabilia or funds to make this a successful event. We hope you had a great time and hope to see you at the next one!
####################
Here is link to photos you can download them from the album:
https://carincohen.smugmug.com/EV-wishlist-dublin/n-SrDFqm/i-3VTPvWF
words by Damien and Carin
Photos by Jenni Conway, Monica Alexandru and Carin Cohen
---