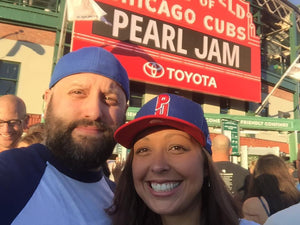 Feature Friday: Pearl Jam fan, Krystina Roemer
By Chrissie Ferguson 
There is something ethereal about music. It has the ability to be timid—to just sit with you and meditate quietly. It also has the ability to empower—as it whispers in your ear, "Sing along and shout my lyrics. I just might soothe your weary soul." 
And while there is power in all music, no other band's music speaks to us quite like that of Pearl Jam. The sound and the lyrics have stood by our side through the ups and downs of life. 
When regrets of the past plague us, the lyrics of "Present Tense" remind us of the importance of focusing on today.  When we lose someone too precious to lose, "Come Back" resonates in our hearts. And when we've quit or lost a job, or we have finally said goodbye to a toxic relationship, the lyrics to "Rearview Mirror" ring true. 
And it's the lyrics of "Who Ever Said" that will stand by the side of Krystina Roemer and her brother as they currently seek strength and courage.
I am not the world's greatest Pearl Jam fan. Not even close. But Pearl Jam has been a vital part of my life ever since I could remember, thanks to big brother, Joe. 
My first memory with my brother is him quizzing me in front of his friends. He wanted to show them how well he taught (he would say, "trained") me, "Who is the greatest band in the world?" Five-year-old me would respond emphatically, "Pearl Jam!" 
He took me to my first (and every) Pearl Jam concert following that. My three siblings and I each have our own "thing," and Pearl Jam has always been Joe's. But his thing was always a little bit different in the way that his love of Pearl Jam was so fierce that it influenced all of us.
But this really isn't my Pearl Jam story...it is Joe's. In the midst of all the chaos and fear from the ongoing Coronavirus pandemic, my family received news that Joe has a rare cancer...Ewing Sarcoma. He started his first chemo treatment a few weeks ago, which by itself is a nerve-racking experience to watch take place. When you add it to the current climate of our world, it becomes downright terrifying. 
But there was Joe...facing his first infusion to help battle his disease. He had his playlist ready to go—which was kicked off with "Alive." We are all navigating uncharted waters together—with COVID-19 and my family with my brother's illness. It is beyond difficult to not have fear when there's a path of uncertainty in front of you, but knowing we have each other provides hope that we will be okay.
When Pearl Jam posted a snippet to one of their new songs, "Who Ever Said," I immediately sent it to Joe. The caption contained a short lyric from the song, and it couldn't have been more fitting—
"But I won't give up. No I won't give up." 
Short, but powerful words that couldn't have come at a better time. Joe won't give up. We won't give up.
                   -Krystina Roemer
Thank you, Krystina, for sharing this heartfelt story with us. The Wishlist Pearl Jam community sends positive thoughts to you, Joe, and your entire family during this difficult time. 
PJ Community, please don't forget to share your Pearl Jam stories with me at editorial@wishlistfoundation.org. Let's lift each other up during this time of uncertainty and create and share some positivity.
---