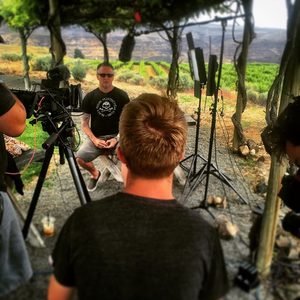 Feature Friday: Producer, Tim Williams
By Chrissie Ferguson
This week, I had planned to share the interview I conducted with the filmmakers, Nic Davis and Tim Williams, of Enormous: The Gorge Story. 
A one-time screening of this official documentary of the Gorge Amphitheater was scheduled to take place in select theaters throughout the country in late April. In the upcoming weeks, Wishlist had planned to provide some lucky Pearl Jam fans with free tickets to the screening.
But as with everything else that has been postponed, unfortunately, fans will have to wait for the screening of this documentary, brought to theaters by Trafalgar Releasing, as well as my behind-the-scenes chat with the filmmakers.
I promise you, though, as with everything Pearl Jam-related this year, this film will be worth the wait.
The documentary shares the story of a Washington winery owned by the Bryan family and the journey they take to create "The Gorge," a concert venue with a breathtaking backdrop that has attracted over 7 million fans and some of the world's most notable musicians. 
Davis and Williams not only bring the experience of Mother Nature's Gorge to life through their interviews with audience members, but music icons like Dave Matthews, Mike McCready, Jason Mraz, Dierks Bentley, and Steve Miller paint the perfect picture of the unique venue that one must see in order to believe.
And today, for "Feature Friday," we spotlight Producer, Tim Williams, who shares a favorite moment among his many interviews which took place throughout his five-year production of the film.  
"I remember interviewing Mike and us all being really grateful to be there that weekend. There was a sense of appreciation and also of fun. We were having a great time, and it really showed on Mike. He was excited to spend some time with us and to share his story. In the film, Mike talks about the fact that he had given up music when he was younger. But after going to a Stevie Ray Vaughan concert at the Gorge, he said to himself, 'I'm playing the guitar again.' I'm excited to share Mike's story with the fans and the world!"
Just think - maybe Pearl Jam wouldn't be Pearl Jam today if Mike hadn't visited the Gorge when he was younger. What a magical place it must be!
Thanks, Tim, for your thoughts this week. We look forward to the screening of Enormous: The Gorge Story, whenever it might be. 
To everyone else, please don't forget to reach out to me about your Pearl Jam stories at editorial@wishlistfoundation.org. Let's lift each other up during this time of uncertainty and create some positivity in our Pearl Jam community!
Check out my post about "Feature Fridays" at: https://wishlistfoundation.org/blogs/news/its-okay-its-okay
---