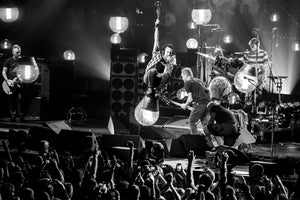 It's Okay. It's Okay...
By Chrissie Ferguson
We live in a world where routine rules our lives. It makes us feel normal - a part of the world. But when we face obstacles, sickness, or the death of a loved one, our personal boats are rocked. And it's a horrible, almost numbing feeling.
But nothing could have quite prepared us for our current situation in dealing with the Coronavirus. Whether our communities are overreacting or not, it doesn't matter. When our routines change, our emotions are fragile. 
While I am personally laughing at the toilet paper shortage here in the U.S. and the fact that I have to elbow bump those whom I interview, I wear a figurative mask as I smile in front of my own children and my students - telling them that everything will be okay. 
I told my students on Friday that "I will teach you through a virtual classroom for the next month, and I will do my best to keep everything as normal as possible." But on the inside, I question my smile and every word that passes through my lips, only because -- for the first time -- I feel that I do not really have the answers. And I do not really know what to expect in this situation. It is a horrible feeling to not feel in control.
While I despise the unknown, I do have faith, though, that everything will be okay because we have each other. Many of us have the support of our family. And if we don't have family nearby, maybe it's our friends who lift us up.
But one thing I know for sure is that our Pearl Jam community, near and far, is steadfast. Sure, there are always a handful of negative souls lurking about - after all, that's what makes the world go 'round. But for the most part, our PJ community is positive and supportive. Our community is family!
A few years ago I wrote an article for HuffPost about my Pearl Jam community. These people whom I have met along the long road are my people. When my world is off-kilter, my Pearl Jam friends are the first friends to reach out to me. There is just something about this community that is like nothing else. 
I have the band to thank for my close friendships and the memorable concert experiences. But my stories alone don't define this band. The long road hasn't only been my journey; it has been taken by all of you, too.
And so, as a staff writer at Wishlist, I would love to hear your stories. Email me at editorial@wishlistfoundation.org and tell me your story in 300 words or less. Let me know what Pearl Jam and the PJ community means to you. No attachments, please. Just write your story in the body of the email. Then, keep your eyes open each Friday because your story just might be the "Feature Friday" story on Wishlist's social media platforms. 
I look forward to hearing from all of you!
Stay well, be kind, be supportive, and stay "positive, positive." It's going to be okay.
Photo by Cory Schwartz @cschwa17
---