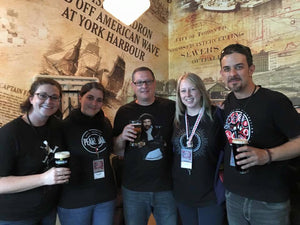 Pearl Jam Fans Host Fundraisers Across North America
Pearl Jam Fans Host Fundraisers Across North America
in Honor of Band's 16 Date Tour Supporting New Album Gigaton
Wishlist Foundation, the Pearl Jam fan-run grassroots 501(c)(3) nonprofit organization, is hosting preparty fundraisers in March and April at every city on the band's 16-date North American tour supporting their much-anticipated eleventh studio album, Gigaton. The tour kicks-off on March 18 in Toronto and wraps with a two-date stint in Oakland April 18-19. The fan fundraiser events will benefit the band's spotlight charities as well as local charities in each city.
Inspired by the Rock and Roll Hall of Fame legends' music, philanthropy and activism, Pearl Jam fans volunteering with Wishlist Foundation have been fundraising in their honor for the past 16 years.
"We are incredibly grateful for the decade-plus years of support and inspiration from the Wishlist Foundation's pre-parties," states Mike McCready, lead guitarist of Pearl Jam. "I think our fans are very proactive in terms of fundraising for events before our shows. They do it of their own volition and they take care of each other and their communities. It always blows me away."
Conceived in 2004 and officially organized in 2006, Wishlist Foundation has remained a 100% volunteer organization run by fans, raising over 1.3 million dollars for charitable organizations in the arenas of health and chronic illness, environmental causes, arts and education and social change.
A pioneer in fan-based viral activism and leader in the Pearl Jam fan community, Wishlist Foundation sponsored events are the go-to destination for thousands of both diehard and new fans of the band across the globe to gather before Pearl Jam and other related concerts, forge new friendships, all while uniting behind causes important to both the fans and band. Wishlist Foundation is fan-run and not affiliated with Pearl Jam, Ten Club LLC, Pearl Jam's Vitalogy Foundation, its management or any of its related entities.
Open to the public, attendees of the Wishlist fundraisers can make donations to receive band and fan inspired merchandise and enter raffles for chances to win fan-donated band collectibles. Silent and live auctions will feature donated autographed Pearl Jam posters and other rare memorabilia. All proceeds from the raffles and auctions will benefit local organizations and Pearl Jam's spotlight charities.
---