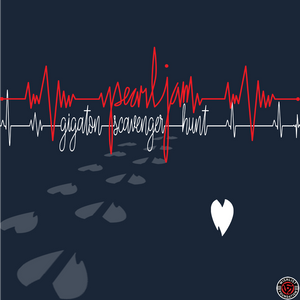 Pearl Jam - No Strangers to Scavenger Hunt
Pearl Jam
 fans around the globe went on an information gathering scavenger hunt using hints provided by the band via their 
website
, fan club newsletter and social media channels, Friday, January 10, 2020, and ended up learning about the word "
gigaton
" and
climate change
in the process.
an album related hunt.
This isn't the first time the Rock & Roll Hall of Fame legends sent their fans on an album related hunt.
BACKSPACER
Before the September 20, 2009 launch of Pearl Jam's 9th studio album Backspacer, the band revealed an "Easter egg" hunt built around the album's iconic cover art designed by political satire cartoonist Tom Tomorrow.
"The artwork collaboration between Tom Tomorrow and the band for this album is so compelling, we felt like it deserved its own online gallery showcase," said Tim Bierman, the manager of Pearl Jam's Ten Club.
Nine images from Backspacer's cover art were hidden all over the internet for fans to find. Once a fan found and clicked on the image, it took them to Pearl Jam's special Backspacer website. When all nine images were fully assembled, fans were rewarded with a freebie that Pearl Jam promised to be better than the usual free MP3.
Thanks to our heroes, the Indiana Jones-level information gathering archivists at TwoFeetThick.com, we found out that ThisModernWorld and Drowned In Sound hosted images 2 and 6, respectively.
We'll keep this post updated as we track down the remaining pieces of the album cover and overall story. Have info? Please help us finish this historical quest!
Fun Fact: The album title Backspacer was also used for the name of a leatherback turtle that was sponsored by Pearl Jam for Conservation International and National Geographic's Great Turtle Race.
Pearl Jam Twenty
As part of the "20 Days of Pearl Jam Countdown", Pearl Jam revealed a worldwide scavenger hunt for the tracklist to Cameron Crowe's then upcoming "Pearl Jam Twenty" documentary, on August 17, 2011.
"I don't think we all realized what an undertaking this was until we got into the nitty-gritty of it," Columbia Records then Senior Vice President of Marketing Scott Greer told Billboard.biz. "The question was: 'how can we engage social media to get people finding and posting clues?'"
According to TNW: "fans were asked to use clues released on the Pearl Jam website and Twitter account to figure out locations where the track titles would be revealed. With clues revealed at physical locations, including Times Square and the Taipei Zoo, but also virtual locations, including the Yahoo Answers, Craigslist (and even in a voicemail message), everyone had a chance to take part in the hunt and win one of 29 Pearl Jam Twenty posters by tweeting the track title accompanied by the hashtag #PJ20."
Our friends from TwoFeetThick.com were asked to reprise their roles as co-conspirators:

TNW reported that within 12 hours of their scavenger hunt announcement, Pearl Jam mentions on Twitter had quadrupled to 5.9 million tweets, and Pearl Jam's website was Columbia's most viewed page of the day.
The reward from the world wide Pearl Jam Twenty scavenger hunt was the 28 x 38 behemoth poster promoting the documentary soundtrack.
This is poster #29 of 29, found at Universal City, CA. Track: "Rearviewmirror - Universal City, CA." From the collection of kasedoug.
Professor Gossard in the Conservatory with the Monkeywrench
Hosting a scavenger hunt has proved to be lucrative for Pearl Jam and engaging for the fans. Mixing the tantalizing hint of what's to come with the communally competitive elements of online gaming  and being "first" on social media make it fun and exciting for people to participate. As we saw from yesterday's "gigaton" example, it's also a chance to create an educational experience for fans as well.
Given their playful history, it's pretty safe (and super exciting!) to assume that Pearl Jam's got some album/tour reveal adventures in store for their fans - and we can't wait to accept the challenge!
Quicklink: https://tinyurl.com/pjhunt

Written by Laura Trafton
Research assistance provided by: Romy Bianchi, Jen Belle, Anthony Krysiewicz, Kathy Davis

© 2020, Wishlist Foundation. All Rights Reserved.
---