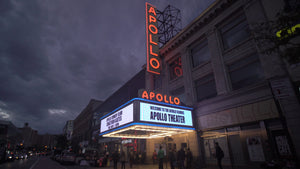 Pearl Jam to Make History in Harlem's Apollo Theater
By Chrissie Ferguson 
On Thursday, March 26, 2020, the past will meet the present as Pearl Jam takes the stage for the first time in Harlem's world-famous Apollo Theater.
The Apollo was brought to life in 1913 by New York architect, George Keister, and was named Hurtig and Seamon's New Burlesque Theater, after Benjamin Hurtig and Harry Seamon - the two men who had obtained a 30-year lease on the venue.
In an effort to "clean up" New York City, Mayor Fiorello La Guardia, banned burlesque in 1933, and the theater was shut down. But in 1934, toward the end of the Harlem Renaissance, Sidney Cohen -- President of the Motion Picture Theater Owners of America -- reopened the theater and became its first owner.
Cohen and his partner, Morris Sussman, who served as the theater's manager, created a new name and reputation for the theater.
The 125th Street Apollo Theatre, named after the Greek God of music, transformed from a burlesque theater into one of variety revues. Suddenly, as a new sound emerged inside its walls, the Apollo became the first theater to allow African-Americans to perform and to welcome an interracial audience.
Stars were born on the Apollo's stage when young artists took a chance at showcasing their talents during the theater's Wednesday evening "Audition Night," which later became known as "Amateur Night in Harlem." 
Swing, bebop, rhythm and blues, soul, female vocalists, doo-wop, Motown, funk, gospel, and the blues all brought down the house on "Amateur Night." Legends, such as Ella Fitzgerald (1934), Dionne Warwick and James Brown (1956), Stevie Wonder (1962), Jimi Hendrix (1966), and the Jackson 5 (1969), all made a name for themselves on the stage of the Apollo Theater, which was aptly nicknamed "the place of opportunity."
Other sensational solo artists and bands, such as Paul McCartney, Bruce Springsteen, Metallica, U2, and Lady Gaga have performed at the Apollo.
And now, the iconic band, Pearl Jam, has the great opportunity to add its name to the legendary acts who have graced the historical theater's stage with its presence.
You, too, can become a part of the Apollo's history as Pearl Jam takes the stage for the first time in the intimate theater that hosts 1,506 spectators. 
"I'm just super excited," says SiriusXM Pearl Jam Radio's Host and Producer, Rob Bleetstein. "Not only about the intimacy of the location, but that we are actually going to do a live broadcast with Pearl Jam on Pearl Jam Radio. It's been a ten year goal."
The concert itself is not the only electrifying part of the evening. "Immediately following the (concert's) broadcast, Pearl Jam Radio is going to premier the album (Gigaton) in full, about an hour or two before it gets released at midnight, March 27th," Bleetstein continues.
Tune in to SiriusXM Pearl Jam Radio's Faithful Forum with Rob on Wednesday, February 26, and Wednesday, March 4, for your chance to win a pair of tickets to see Pearl Jam at the Apollo. Call 855-9-PEARL-JAM to chat with Rob about the band, and it might just be your lucky day if you are his 22nd caller.
Another opportunity to win a pair of tickets is through Pearl Jam Radio's "Song of the Week" contest, which will take place Monday through Friday, from now until Friday, March 6.
Log on to SiriusXM.com/PJrules to learn more about the contests and how to enter to win your pair of Apollo Theater tickets while listening to Sirius XM's Pearl Jam Radio.
SiriusXM is also offering an online chance to win front-row tickets to the event. This package includes round trip airfare and hotel accommodations. Enter the contest at SiriusXM.com/PJApollo. This opportunity is only open to active SiriusXM subscribers (self-paid or an introductory trial) continuously since January 22, 2020.
Finally, visit Omaze.com and support the Vitalogy Foundation by entering to win the grand prize of two VIP tickets to the Apollo Theater and Madison Square Garden Shows. Flights and hotel accommodations are included, as well as a backstage tour and breakfast with Stone Gossard.
The "Tree of Hope," a tall elm, which once stood near the Apollo, was a good luck charm in Harlem. After being chopped down in 1934, a part of the stump was purchased for the Apollo Theater. To this day, those performing at the theater continue to rub the stump, located stage right, for a little extra luck on stage.
May that "Tree of Hope" bring us all the luck we need to win tickets to Pearl Jam at the Apollo. And just remember, if you don't win a pair of tickets, you can still become a part of history in the making as you tune in to the concert from home at SiriusXM's Pearl Jam Radio.
Photo 1: Apollo Marquee 1, Courtesy of Sanden Wolff Productions 
Photo 2: Tree of Hope and Apollo Stage Blade, Courtesy of the Apollo Theater 
---