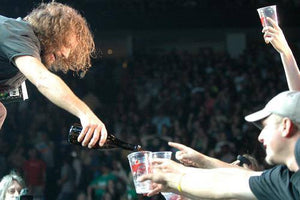 "The Moment" By Michael Petrelli
The Moment
By Michael Petrelli


Close your eyes and picture the first time you heard Pearl Jam.  For many of us this isn't hard as that moment was the beginning of a beautiful journey through love, heartbreak, happiness and sorrow, along that dusty road we call life.  The last 25 years have been filled with the soundtrack of a band that has helped to enhance the joys and suppress the lows and has brought together a legion of fans, the 'Faithful', to a sound that unified millions and lead them to this moment, the coronation of not only a band, but a moment in time that can never be duplicated, the Rock n Roll Hall of Fame.
I struggled to find my identity early in life, spending my early teens in the 80's listening to variety of different genres, finding punk rock to be the closest interpretation of my teenage angst.  As I got older in my youth, that angst began to yearn for something more. Along came Grunge.  I was working at Sam Goody's in high school when Nirvana's first album, Bleach, came into the store.  I was 15 years old and completely blown away by what was coming out of the speakers. I needed to know more about this Grunge! Who is responsible and how can I worship at the altar of Grunge! I would spend the next several years discovering new bands to indulge my new obsession:  Alice in Chains, Soundgarden, Mudhoney, Mother Love Bone, Screaming Trees and a band known as Pearl Jam.  The wheels came to a screeching halt when I heard the opening riff of Once on Pearl Jam's debut album Ten.  It was a moment frozen in time, it was the moment the journey I was on finally had a destination.
I would spend much of my senior year of high school engrossed in the lyrics, the distinctive vocals and the enchanting melodies.  I had spent time in the past dabbling with the guitar, but it was at this moment that I needed to play guitar, I needed to sing and I needed to be heard.  I grew my hair long and yes I wore flannel but for all that was identifiable with a new movement, I self-identified as the real me for the first time.  It was high school graduation and the world was unknown, friendships change, loves are grown and lost and life moves on, the music was my comfort zone and helped light the path.
My brother Joe and I were always close.  Being 10 years apart, I believe he was put on this Earth early to find good music and teach me as I grew.  I remember spinning records in his room while mom made dinner, listening to Bowie, Queen, Dylan, The Beatles, Zeppelin and the Stones. I firmly believe my life would have been different without these moments. Fast forward 17 years and the student becomes the teacher.  I bought him a copy of Ten to listen to. We sat down in his living room and he opened the CD player and popped it in, the music began to play and I watched as his eyes widened, no words needed to be spoken. We would spend the next 15 years traveling to see the band, discussing the new albums and changing of drummers.  He would get married and welcome two children into the world, we would watch as those children began their own journeys, learning to define themselves and discover life. We would cherish the moments we had, and then, without warning, he would leave this world too early. Camden 2006 would be our last show together. 
The next few years would be difficult for the family and we would be at our lowest, but I was fortunate to have found an extended family in the Pearl Jam community.  The bond between the band and its fans became more important to me as I learned to exist without my brother. I discovered the Wishlist Foundation, a fan-run nonprofit that raises money for important causes through events like pre-concert fundraisers and it opened up a new way for me to honor my brother.  The members of Wishlist opened their hearts to my family and me in a way that I could never repay.  This organization helped channel my need to honor my brother into action. Along with my great friend Dave Silver, we organized our own pre-party to raise money for Operation Yellow Ribbon and the Gift of Life Family House in memory of Joe before the final Spectrum shows in 2009. The events were therapeutic in a way and helped me turn my sadness into hope.  I always look forward to those pre-concert gatherings, they have become an important part of my life and the ones before the Rock n Roll Hall of Fame ceremony will no doubt feel like a homecoming.
I also found a willing concert partner in Joe's son, my nephew, Joey. We continue to travel to see the band.  I've carried on with new family and friends who were ready to pick me up, hold my hand and continue on my journey with me. Ten years since my brother has passed and those bonds built so long ago are stronger than ever.
It's 2017 and we've reached a milestone for the band:  the Rock n Roll Hall of Fame induction.  I have to take a minute and replay the last 25 years in my head because it's seems like only yesterday I put that CD on for the first time.  25 years and so many memories, so many friendships formed, so many loved ones lost (we love you, April). Quite the long road we've traveled together, fans and band, but we're here.  Not many fan bases get to relish in the accomplishments of their beloved band as we do.  You can feel that, right? That's pride pounding from your chest that the world finally "gets it", not that you needed it.  It's not just a band that is being inducted; it's a part of each and every one of our lives being encapsulated for all time. It's seeing the ghosts of our past flash before our eyes and smiling at them all, the good and the bad, because they all brought us here, together, the Faithful and the band, to this, THE MOMENT.
---