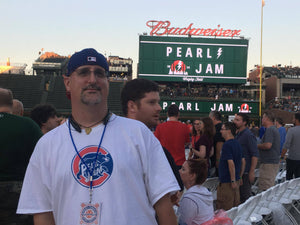 Wishlist Welcomes Chris Girard to Preparty Staff
Wishlist Foundation is happy to welcome Chris Girard to the Preparty Staff team.

Chris attended his first Wishlist Foundation preparty fundraiser in Grand Rapids, Michigan in 2006, then Detroit 2006. Since then, Chris has volunteered at every show he's attended since, (14 of them!). In 2016, Chris was the organizer for the Lexington preparty fundraiser and volunteered at 5 other events.

Chris has been in restaurant executive management for 26 years handling all hiring, accounting, budgeting and scheduling. He's now disabled due to 6 different cervical and back fusions.

He loves helping whenever he can and loves the relationships he's formed through Wishlist Foundation and the Pearl Jam Fan Community.
---